--- THIS PAGE HAS BEEN REDONE, WITH A BETTER EXPLANATION. IT SHOULD NOT BE A CATEGORY, CAN WE GET THIS REMOVED PLEASE? ---
The builder is an NPC that builds buildings, as the name obviously tells, and is necesssary for a fully-functional village.
Without the builder, there's no buildings, without the buildings there's no people, and without the people, there's no village, and no slaves :(
When you place your town hall, it comes with a chest, that has every hut and comes with additional resources and tools. The first thing you want to do is to place a builder's hut first.
When starting out, be careful to protect your builder before he has finished the town hall, otherwise you will need to re-place the builder chest in order to respawn him.
---
It is ill advisedto start a colony in a desert biome, if you do this then the builder will request large numbers of dirt blocks to place under and around buildings. This will also look strange as a grass biome building will be surrounded by sand.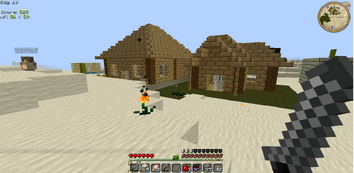 Subcategories
This category has only the following subcategory.