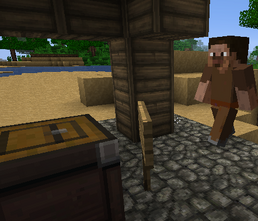 Welcome to the MineColony Wiki
Edit
The indie game Minecraft, which was created by Notch. MineColony was first created by Thomas Lacuzzini and momentary maintained by Vlad11, rscott and Heho. To learn how to start your own village, see the Getting Started page, then explore to see what else you can build
The Original Statement from Lacuzzini
Edit
"I am creating a mod which will be some sort of a village simulator with similar mechanics to Anno 1602. The mod gives you an opportunity to create and manage your own colony in Minecraft. In future various buildings will require certain resources to build them. For instance Lumberjack's hut will consume 100 planks, 20 sandstone and 5 axes. These resources will be crafted/mined by workers." - Thomas Lacuzzini creator of MineColony
If you'd like to help add to or edit the wiki, please look at the Unofficial Editing Guide first
Latest activity
Edit
Ok i try to put down a farmers hut but it wont let me and I allso tried with the miner and got the same output, could anyone help me? - You have to build a few things first, see the link I just put in above to see if it helps..
Ad blocker interference detected!
Wikia is a free-to-use site that makes money from advertising. We have a modified experience for viewers using ad blockers

Wikia is not accessible if you've made further modifications. Remove the custom ad blocker rule(s) and the page will load as expected.